So you're a small business and your search for top talent is just not cutting it.
Wait, you're not alone in talent hunt. Most SMBs are struggling to find well-rounded employees to fill those important roles on their teams. It's often difficult to discern what would exactly attract the best employees in the current tightening labor market.
An Accenture study found 68% of workers across the world with pension or retirement benefits consider those benefits a critical factor in their choice of job.1
Also according to the latest Spark 401k Small Business Retirement Planning Index, 94% of small business owners, who offer a 401(k) plan to employees recognize it supports recruitment and retention.2
Hence, 401(k) retirement saving plans are undoubtedly a critical employee benefit and one of the most sought-after perks for employees. However, the administration of these benefit plans entails extensive legal and fiduciary requirements. That's where small companies face the dearth of resources in managing 401(k) plans.
Let's Debunk A Few of Common Employers' Myths Around 401(k) Plans
Myths around 401(k) plans (related to fees, non-discrimination testing requirements, investment choices, etc.) could steer employers from offering these retirement benefits to their employees.
We have attempted to bust a couple of those common myths below. Read on.
Myth: Many small business leaders see these 401(k) plans as a cost center from administrative expenses perspective.
Truth: 401(k) plans can be cost effective for SMBs that most often have lower operating costs. Employers can easily pass on the administrative costs to the plan participants. Thus, employers need not shell out huge money while offering these benefits to their employees. Also, IRS offers a tax credit that's inclusive of the pre-requisite startup cost of $500 annually for a period of three years. Many a times, this credit supersedes the total cost of the plan for an SMB.
Myth: Administering a 401(k) plan is complicated and time consuming.
Truth: Complex electronic transactions, cumbersome paperwork, and various penalties associated with the wrong implementation of 401(k) plans scare away many employers. Further, many employers see hiring a dedicated plan specialist, with relevant experience in 401(k) census data and contribution management, as an additional expense. However, this can be easily streamlined by combining 401(k) plan with payroll through a single interface. This integration is likely to help employers leverage technology, expertise and safety, while enabling you in streamlining the process around this integration.
Benefits of Integrating 401(k) with Payroll
Payroll integration can make your 401(k) plan much seamless to manage.
Let's dig in deeper into the benefits of combining payroll with 401(k) plans.
Collation of correct employee census data
Administering retirement plans requires complete census data related to employees' eligibility and entry data. It automates the transmission of contributions and collection of the data needed. Combining payroll with 401(k) administration makes the above-mentioned task easier to manage. Heavily regulated record keeping is simplified with this integration, and paperwork is eliminated too.
Significant time and cost savings
401(k) plans administration is time consuming; however, integrating it with payroll processing system automates the tasks and frees up your staff to focus on more important business goals. It eliminates redundancy and accrues to significant cost savings too.
Improved Compliance
Combining 401(k) plans with payroll is easy to set up. It helps you stay compliant by enabling your business to adhere to legal and fiduciary regulations governing qualified retirement plans and collecting DOL and IRS forms and management reports in a streamlined fashion.
Improved Accuracy and Enhanced Data Security
Experienced and trusted payroll processing vendors leverage the best technologies to handle even petabytes of data, transactions and workforce funds. It eliminates manual uploads. These firms can make real quick retirement plan deductions accurately.
Don't Let the Fear of Heavy Administrative Burden Deter Your Employee Happiness
By integrating 401(k) with payroll, you can completely overhaul your business' work environment.
Not only it helps you hire and retain the best of the talent available, but also gives your team the time to focus on core business objectives that will eventually help you gain a sustainable competitive advantage over other small businesses.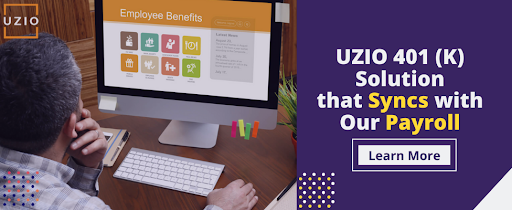 References:
Subscribe Now