The Paycheck Protection Program (PPP) has run out of funds. Yes, you heard it right.
On April 16, the Paycheck Protection Program exhausted nearly $350 billion earmarked for low-interest loans to help small businesses stay afloat in the COVID-19 pandemic.
Many small businesses were quick to jump on this opportunity. Within 14 days, the funds were completely exhausted.  
Under the terms of the Paycheck Protection Program, a part of the CARES Act, eligible businesses can apply for loans to pay 8 weeks of salary, benefits and other eligible costs. If the business uses at least 75% of the loan to restore its full-time employment and payroll, the loan can be partially or totally forgiven.
Second Round of Funding is On the Way
A deal to release the second wave of coronavirus relief funding has been sealed on April 21st between the White House and congressional leaders. The new bill would infuse an additional $310 billion for the government-backed PPP, $60 billion of which would be set aside for small lenders.. It has been passed by the House of Representatives on April 23rd. 1
Just Hang in there!
In the face of a fast spreading virus and many small business owners finding themselves in the lurch awaiting response to their loan applications, the situation seems dreary. Many SMBs fear that if they don't receive the loans quickly, they'll be left with no option but to shutter their shops. They've ongoing expenses, dried up revenues and predict a grim future ahead.
Dave Boster, chairman of SCORE Bucks County, told that the business advocacy nonprofit is flooded with calls from small business owners primarily focused on one key question: "They want to know how to stay afloat until they can reopen their doors again."
"As this is progressing and weeks are turning into months, we are looking at our rents that are due, invoices that are outstanding and payroll … Some are having to let staff go because they can't keep doors open," said Derrick Morgan, who with his wife Jeanell Morgan owns Monkey's Uncle in Doylestown.2
We also recommend that as a small business owner, you must not rule out other sourcing of funding like:
        Venture capital financing

        Employee retention tax credit

        State, city and county resources

        Crowdsourced funding

        Borrow from family and friends
However, these loans most often have terms and conditions such that these loans turn out to be too expensive. And thus, PPP seems to be the most viable option for small businesses at the moment.
So, just hang in there and stay strong. The second round is now on its way.
As a Virginia-based company, UZIO wants to do their bit for the local SMBs in the DMV area. They can access our all-in-one HR, benefits and payroll platform – at Zero cost for the rest of 2020. There is NO business involved in UZIO support to the society.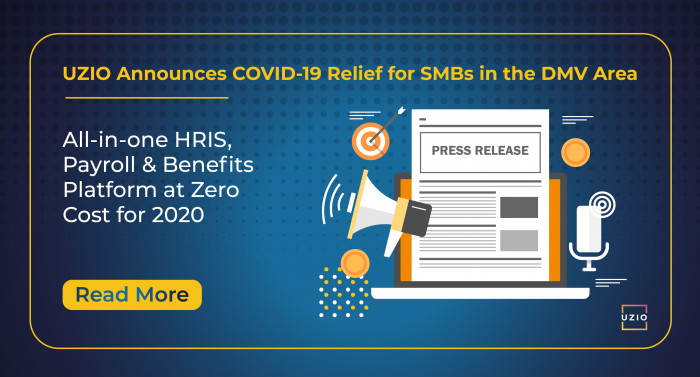 References:

https://bit.ly/TechcrunchPPP
https://bit.ly/IntellSMB
Subscribe Now