To support small businesses that have been hit hard by the COVID-19 pandemic, the United States government recently passed a massive $2 trillion economic stimulus package and three landmark acts.
The largest emergency aid package in the U.S. history entails proposals that aim at supporting small businesses with low-interest loans, tax deferrals, and several other financial aids to help them stay afloat during this unprecedented economic crisis.
Let's piece together what these three landmark acts mean for your small business, employees, and future.
Families First Coronavirus Response Act (FFCRA)
FFCRA offers small businesses, with fewer than 500 employees, and certain public employers, funds to provide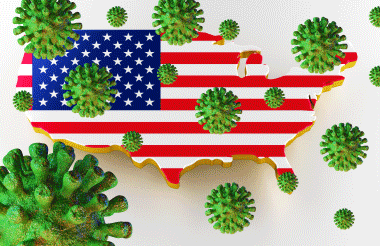 employees paid sick or family leave for reasons related to corona virus outbreak. This act covers the costs of paid leave by offering businesses with refundable tax credits from April 1, 2020, through December 31, 2020.
It helps small businesses to continue keeping the employees on their payrolls, while protecting them from unpaid sick or family leave. It also routes adequate funding to departments monitoring U.S. unemployment insurance.1
This Act has, however, been updated on April 1, 2020 with the following highlights:
Small businesses are exempted from mandated paid sick leave or expanded family and medical leave requirements only if:

The employer employs fewer than 50 people.
The leave is requested because the child's school or place of care is closed or childcare provider is unavailable due to COVID-19-related reasons

An authorized officer of the business has determined that at least either of the these following conditions is satisfied:

The provision of paid sick/medical leave lead to the small business's expenses and financial cost outrunning available business revenues and force the small business to stop operating at a minimal capacity.
Owing to their specialized skill set or domain knowledge, the absence of the employee(s) due to these sick/medical leaves would cast a significant risk to the financial health or operational capabilities of the small business.
How can small businesses claim the credits?
Eligible employers can claim the credits on their federal employment tax returns (e.g., Form 941, Employer's Quarterly Federal Tax Return), but they can reap benefits from the credits quickly by reducing their federal employment tax deposits.
Once the qualified leave payments have been made, eligible employers may get credits in accordance with applicable IRS procedures.
The credits cover 100% of up to 10 days of the qualified sick leave wages and up to 12 weeks under The Emergency Family and Medical Leave Expansion Act (EFMLEA) that an "Eligible Employer" paid during a calendar quarter, plus the amount of the Eligible Employer's share of Medicare taxes levied on those wages.
The Coronavirus Aid, Relief, and Economic Security (CARES) Act
This 800-page act, signed into law on March 27, offers $349 billion in Small Business Administration (SBA) loans.
Who Qualifies?
For the period of February 15 – June 30, 2020, any small business that employs 500 or fewer employees can receive a loan of as much as $10 million under this program to cover:
Many months of payroll
Mortgage
Other business transactions
Since all 50 states have been declared as disaster zones, hence regardless of the location, your company qualifies for these loans.
Tax Deferrals for Small Businesses and Corporations
As part of this Act, no tax payment will be levied until October 15, 2020 for corporations.  The small businesses can defer federal payroll taxes until Dec. 31, 2021, at which time, only 50% of the tax will be due. The remaining tax must be paid by Dec. 31, 2022.2
However, these payroll tax deferral regulations do not permit businesses to withhold paychecks from employees. With these tax deferrals, small businesses can save a total of 7.65% of tax money (6% toward Social Security and 1.45% toward Medicare taxes) spent, while issuing paycheck to each employee. With a slightly larger group, a small business can save a significant sum of money that can serve as temporary funding to stay afloat during such harsh times.
Should You Jump on CARES Act Benefits Now?
This financial aid must not be considered free money as you need to qualify for forgiveness by ensuring that 75% of these loans are directed toward payroll.
You need to apply twice for the loans enabled by the CARES Act.
One application to receive the loan.
Another application for forgiveness.
To be able to do both, you need to keep your accounting books updated. It's also imperative that you open a fresh bank account for all your transactions during this period as this step will go a long way to help you prove that you are eligible for forgiveness.
You also need to be sincerely honest about your accurate financial requirements, which you can easily work out with the help your financial adviser or accountant. This step is critical as the economy is most likely to stand still until Easter and your business might just need more then 10-weeks payroll.
Other Implications of the CARES Act for Small Businesses
The CARES Act also offers training and advising grants to small businesses, big corporations, state and local governments, and hospitals. Meanwhile, $8.3 billion in emergency funding has been earmarked for the SBA and its Disaster Loans Program under the Coronavirus Preparedness and Response Supplemental Appropriations Act, passed earlier in March.3
Low Interest Loans
To incentivize small businesses to keep their workers on payroll, the SBA has begun to offer two types of loans, namely:
1. Disaster Assistance Loans
The SBA has started offering low-interest (2.75% for non-profits and 3.75% for other businesses) disaster loans (under its Economic Injury Disaster Loan Program) of up to $2 million.
Who's Eligible?
Businesses that under 500 employees or sole proprietors can apply for loans here. You will have to state your gross revenue and the cost of goods sold for 12 months prior to Jan 31, 2020. You can request up to $10,000 in advance. Currently, there is no loan forgiveness for this loan, and you can return it in a period of up to 30 years.
However, the time needed to pay back the loan will be determined on a case-by-case basis.
2. Paycheck Protection Program (PPP)
The PPP empowers SBA-approved lenders, like banks, to lend low-interest loans of up to $10 million to qualified businesses, nonprofits, sole proprietors, and self-employed individuals, impacted by COVID-19.
This loan can be used for payrolls, mortgage, insurance premiums, utilities and other debts. It can be forgiven if you maintain the payroll during the pandemic or restore salaries of your employees.  The program is slated to end on June 30, 2020.
Who's Eligible?
You're eligible for this program if you meet one of the following criteria:
A small business with fewer than 500 employees
A small business recognized by the SBA as an Eligible employer
A 501(c)(3) with fewer than 500 employees
A sole proprietor
An independent contractor
A self-employed individual, who regularly carries on any trade or business
A Tribal business concern that meets the SBA size standard
A 501(c)(19) Veterans Organization that meets the SBA size standard
Small businesses in the hospitality and food industry with more than one location could also be eligible if their individual locations employ less than 500 workers.
If you are a franchise or get financial aid from an approved Small Business Investment Company the normal affiliation rules do not apply
If your business was operational on or before February 15, 2020, and you paid salaries and payroll taxes for employees or paid independent contractors timely but are now impacted by COVID-19 crisis are also eligible. You can borrow up to 2.5x of the borrower's average monthly payroll costs accrued over the 12 months prior to the loan borrowing date. You can borrow a loan of up to $10 million. This loan has a maturity of 2 years and an interest rate of 1%.
Stimulus Aid
Stimulus aid helps small business owners, their families, sole proprietors and employees in such organizations. Besides meeting business expenses, small business owners and sole proprietors also need to meet their household requirements. With this stimulus package, businesses that had to shutter business due to COVID-19, will get checks to address their food, rent or utility bills, along with other U.S. taxpayers.
To learn more about the different Acts being passed by the U.S. government to help small businesses impacted by COVID-19, you can bookmark these helpful websites:
Through this blog, we hope we could help you in some way. Also, if you want some help with bookkeeping or managing your payroll in this hour of crisis, we'd be glad to assist you. Let's talk!
References
bit.ly/Congressgov
bit.ly/USgovt
bit.ly/116housebill
bit.ly/HSblogaid
Subscribe Now