Human resources (HR) is one of the most crucial functions within an organization.
The HR department handles all employee-related issues as well as payroll calculations. Considering the importance of this department, an effort should be made to streamline operations, optimizing both employee productivity and the employee experience as a whole.
Fortunately, companies are investing more in HR. In fact, the industry is projected to be worth $38.17 billion by 2027!
Sadly, many businesses still rely on manual management of their workforce, but companies can use Human Resource Information Systems (HRIS) to reduce or even eliminate many of their routine, time-consuming tasks.
An HRIS addresses many different issues often faced by the HR department, but its primary purpose is to simplify HR workflows. This is accomplished by speeding up HR processing and ensuring an accurate payroll.
Recommended reading: The Benefits of HRIS Technology for Small Businesses
An HRIS is effective for large enterprises, but they're also perfect for any small business trying to improve the efficiency of its operations.
Before you pick an HRIS for your business, it's important to look at the different types of HRIS available and which industries these solutions serve best. If your business falls within one of these sectors, then chances are it's the right time to make the necessary adjustments and invest in an HRIS for your company!
According to a report by the Economic Policy Institute, there is a shortage of teachers in the workforce.
In fact, the annual teacher shortage was estimated to reach 110,000 teachers in 2018 and is expected to quadruple by 2023.
This shortage highlights the importance of hiring enough teachers so that schools are not under-staffed. Of course, hiring the most-qualified candidates is also important, and attracting the best talent requires offering competitive salaries and enticing benefits to potential employees.
In education, HR serves as the middleman between teachers, staff, and the school administrations. HR is there to resolve any issues or concerns of the workforce, which can range anywhere from benefits concerns to labor issues. If teachers or staff feel that they deserve more from the administration, then it's up to the HR department to convey that message to the stakeholders.
One of the most useful features of HRIS is benefit analysis, which helps find the most attractive and efficient benefits for your workers. This feature poses an obvious advantage for finding top-tier teachers, but it can be utilized in other sectors as well.
Business Process Outsourcing (BPO) and call centers have some of the most competitive atmospheres in the workforce today.
Employees, motivated by rewards such as commissions for their efforts, are bound to work harder to achieve their allotted quotas. This sector is best suited for resilient, resourceful workers who can adapt to the long calls and late-night schedules that tire out most employees.
HR is an important part of this industry as finding people willing to sit through long conversations and work extended hours is key to success. Quality call center agents who get along with their coworkers can be hard to find, although the competitive nature of the profession likely contributes to disputes among team members.
Since companies in this line of work usually have hundreds of employees, a proper HRIS is essential. The systems are ideal for managing a massive team and provide the perfect solution to all of your payroll issues.
Call centers may struggle to distribute the payroll on time due to their massive employee bases, but HRIS has features that allow the HR department to streamline the payroll process, ensuring that all employees are compensated properly and on time.
Construction is one of the most physically exhausting industries in the modern workforce. Workers are often deployed at multiple job sites, making it hard to keep track of attendance. If workers don't get the proper benefits, salaries, and treatment, worker morale can plummet and projects will quickly crumble. An easy way to keep everything the workers need in check? Using an HRIS!
HR plays the crucial role of forecasting in the construction industry. Before a project begins, HR helps in distributing the workers among the job sites. During and after projects, HR acts as the workers' go-to for all their labor needs. A proper HRIS can streamline both processes through its database, and the features it offers help reduce the likelihood of errors (and time required) from the HR department.
From ensuring salaries are paid on time to keeping workers up-to-date on the latest policies and compliance laws, an HRIS handles all of the heavy lifting, allowing your business to optimize its HR department.
This sector needs HR the most. HR effectively empowers the government by allowing workers to provide the services required by the general public.
Utilizing an HRIS, the HR department can easily manage and organize the data of an employee for future reference. Whether it's ensuring they are still qualified for a job or checking for past misconduct, an HRIS makes it easier for government agencies to maximize the amount of work they can process on any given day.
Beyond that, a proper HRIS provides workers with cost-effectiveness incentives, motivating them to work harder. Though often overlooked, these incentives are important as they let the workers know they are valued by their employer, regardless of the industry they work in.
Finding the right people for the job and keeping accurate records in the industry poses a large challenge for banks and other financial institutions.
Thankfully, an HRIS has many features that make this task a lot easier for the HR department to handle.
As the banking industry is mainly service-based, some of the main challenges it faces are managing people while navigating both financial and economic risks.
This huge dependence on the workforce makes HR a top priority. An HRIS can help plan for recruitment, train current employees, manage employee performance, and keep track of employee requirements.
Managing everything from benefits to retirements and resignations, a proper HRIS is crucial for any financial HR department.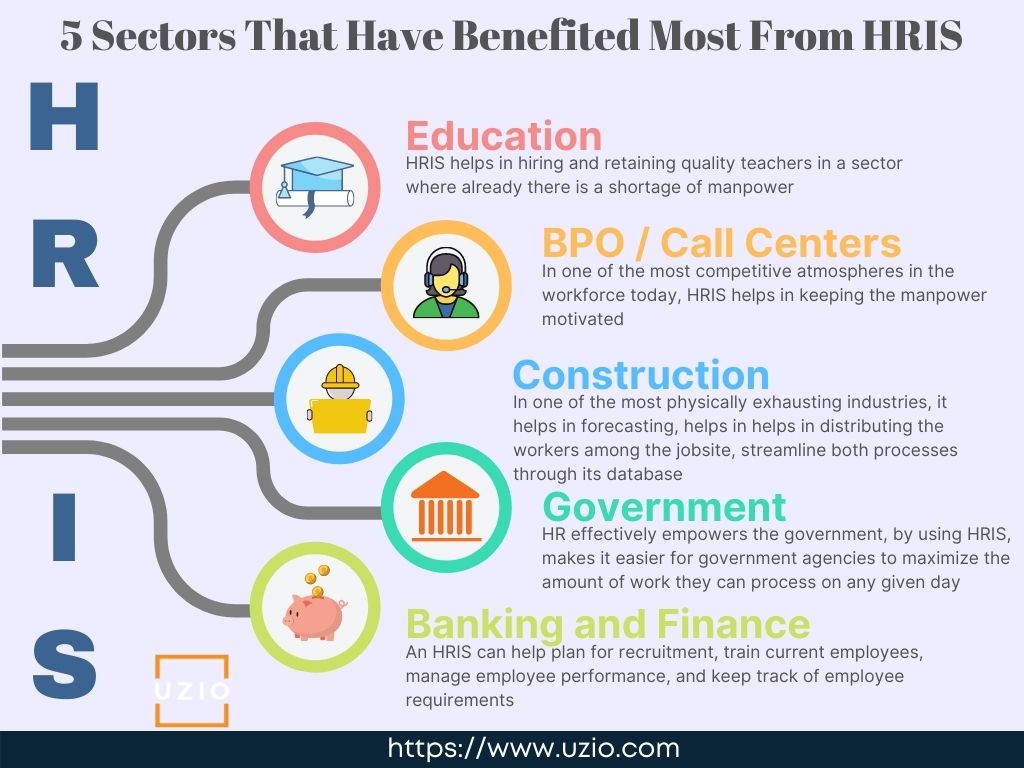 Improve Your HR Processes
Any time is a great time to make the necessary adjustments for your business, especially if you're concerned with company growth.
While there are hundreds of HRIS options available on the market today, it's important to choose the one that will give an edge to your business.
Start exploring your options by checking out the features and capabilities of UZIO, which offers HR, payroll, benefits, and workers' compensation solutions.
If your HR department is currently struggling with managing and maintaining your HR department, then it's time to explore tools designed to optimize your processes and boost your business.