You want your employees to be fully engaged and work at their full potential. You want them to have the right kind of work life balance so they do not feel burned out. One way to do this is to create a paid time off (PTO) policy that provides your employees adequate time off needed as well as meets your business needs. If you can successfully do this, your employees will feel valued and appreciated. They will be able to use PTO to take care of their family members or for vacations or just to take a break from work. In this article, we will share some of the best practices in designing the PTO policy.
When designing the PTO policy for your company, you want to think holistically. You should think of various ways your employees can take time off. Here are different components of your time off policy that need your consideration.
Company holidays are offered in addition to the PTO. Many companies but not all, provide company holidays on federal holidays or some variation of it.
Checkout the list of Federal Holiday 2022 here.
What holidays a company offers is also a function of the kind of the business the company is in. For example, July 4th is a federal holiday and is observed by most of the companies but there are businesses who are not closed on July 4th. Companies may choose to offer a certain number of fixed holidays, say 7 to 8 a year and offer 2 to 3 "floating holidays" a year. Employees can choose which days to take off against the floating holidays.
PTOs are a great way to give employees some flexibility with their time off. By allowing employees to take a personal day when they need it, you can show that you trust them to use their time off wisely. Plus, personal days can help reduce stress and promote a healthy work-life balance. While designing PTO policy for your company, here are some of the important decision points you will have to consider: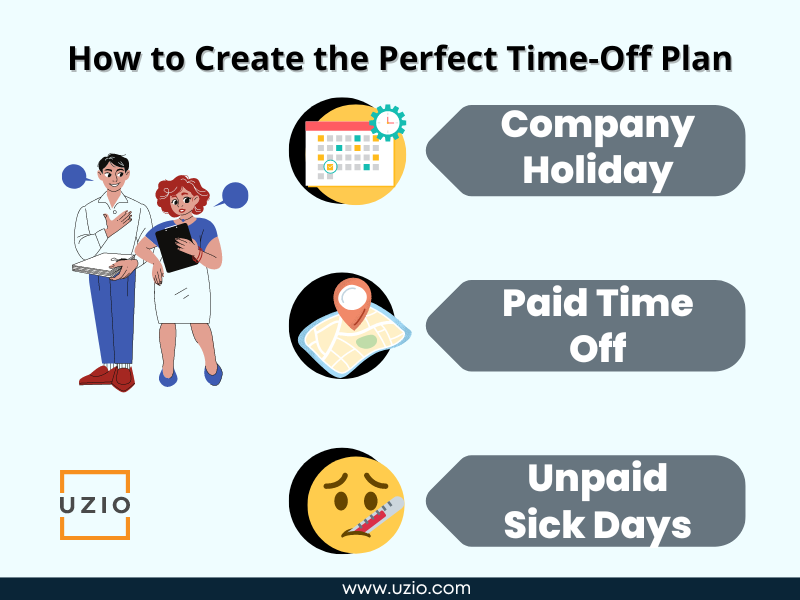 According to the U.S. Department of Labor, the Family and Medical Leave Act (FMLA) requires employers with 50 or more employees to  allow eligible employees to take up to 12 weeks of unpaid, job-protected leave per year for certain family and medical reasons.
This includes leave for the birth or adoption of a child, caring for a sick family member, or dealing with one's own serious health condition. For employers who have fewer than 50 employees, there is no requirement that they provide paid time off for this.
However, in these cases employers are still required to maintain benefits such as health insurance during the time an employee is on FMLA leave.
There's no one size fits all approach to creating this type of policy so it's important to consider your company culture as well as potential challenges with absenteeism or staffing levels before drafting it.
Employees should also have guidelines on how much advance notice they need to give in order to get time off. You'll also want to decide if your company will offer compensatory time instead of paying out unused vacation hours at the end of the year, if there are limits on consecutive days off (e.g., 5), and whether there's a limit on total hours taken in a year (e.g., 240).
At any point in time if you feel like connecting with us in this respect, our team is there to help. You can use the link below to book a call with us.
How to keep track of it all?
Without the right software, the administrative cost of continually calculating balances, accruals, and responding to requests can be overwhelming for HR and managers. Use of UZIO's Time-Off module allows you to track both paid and unpaid leave. You can automate accruals, renewals, approvals, and policy changes. You can also create as many time-off types as you like and employees can access their balances anytime.