The market for HR management software has exploded in recent years, with companies using these tools to find and recruit talent, onboard employees, track performance and benefits, and much more. But with such diverse options available, how do you know which one is right for your company? This article will examine the pros and cons of best-of-breed vs integrated HRMS so you can make an informed decision.
Considerations for a best-of-breed solution
When you choose the best-of-breed approach, you select individual solutions for individual functions, each from a different vendor. For example, you may have a payroll solution provided by one vendor, your benefits solution from another vendor, your hiring and onboarding module from another vendor and your performance management system from a different vendor.
Considering the obvious challenge that these different systems will not talk to each other out-of-the-box, why will you even consider the best-of-breed approach. Well, there could be various reasons for it. You may have some unique needs in your organization which can only be met by the best-of-breed solution in that vertical. For example, you may have employees in different countries and so you may need to work with a specialized payroll vendor who supports international payroll which is typically not supported by Integrated HRMS vendors targeting the SMBs.
In other cases, you end up with the best-of-breed approach not by design but simply as a result of decisions made in the earlier life cycle of the company when individual function owners chose the vendor they had used in the past for their individual function without thinking about the needs of the HR organization as a whole.
Advantages of Best-of-breed HRMS Option
Best-of-breed software allows companies to select and implement specific modules that perfectly fit their workforce. Companies can customize a package of best-of-breed HRMS software to ensure there are no gaps in functionality and to include only those features that they need. This makes it easier to adopt in small increments and adjust as needs change over time, which means it's a more nimble option than an integrated solution.
The key advantages of best-of-breed software include:
Flexibility: When you choose a best-of-breed system, you get the flexibility of implementing smaller chunks of functionality as per your needs instead of taking on a big implementation for all the HR functions at once.  

Installation and implementation is often quicker and easier due to the narrower scope and impact of software seeking to fulfill a single function.

More features: Often these come with more feature because of the tighter focus on just one HR function

Simpler training: Training is simpler because of fewer users using each system

Greater expertise: Since best-of-breed systems are niche specific focussed so these often bring best-of-breed expertise to the table

Switching systems is easier because the disruption is only to one of your HR functions.

There's no reliance on a single vendor; lessening and spreading the risk and impact of a provider unexpectedly going out of business.
Disadvantages of Best-of-breed HRMS Option
The biggest disadvantage of this approach is that different modules don't work seamlessly with each other. There is no single "source of truth". It becomes the customer's responsibility to keep the data in sync across multiple systems. For example if you are using two different systems for your payroll and benefits and an employee changes her benefit selection because of a LSC (Life Status Change like getting married etc), it is the responsibility of the HR team to ensure the premium tied to the new selection is updated in the payroll system otherwise employee will see incorrect amount deducted from her payroll. The HR team ends up copying data from one system to another manually which results in errors and is quite inefficient.
Although these pieces of software might not seem like much individually, when combined together they can make for a complicated array of data that requires lots of manual input from users.
Not only does using separate systems make it more difficult to share information across departments within your organization—it also limits how you can use data for reporting purposes. For example, let's say you decide to purchase four separate software modules: payroll management, time tracking, recruitment management and employee performance reviews.
Even though these functions are critical to managing employees effectively, none of these modules will be able to talk directly to each other; you'll still need to manually enter data into spreadsheets or databases before being able to pull reports together.
Another downside to the best-of-breed systems is cost. Typically the total cost of all the best-of-breed systems combined is significantly more than the cost of an integrated system.
What are the benefits of an integrated solution?
A fully-integrated HRMS offers a range of HR functions in one system. 
These functions often include at a minimum a workforce database which acts as a system of truth, time and attendance, leave management, payroll solution, recruitment, onboarding, benefits and in some cases even talent management. 
Many integrated HRMS packages aim to provide end-to-end management of the whole employee life cycle. All these functions work off a single database – a single system of record – making for easy sharing of information between functions. 
This cuts down on training time, ensures consistent functionality across all modules, and makes collaboration with multiple users easier.
The main advantages of an integrated HRMS include:
It works out of the box. With multiple best-of-breed modules, work is often needed to ensure compatibility and seamless communication, requiring middleware and patches to transmit and 'translate' information between different software packages.

A single vendor contact for all of your HR software support needs means that if you have a problem with an integrated HRMS there's only one company you need to contact.

Logically, an integrated HRMS solution means lower costs. A strategy of combining several best-of-breed packages to meet your HR needs can be more expensive than a single solution.

The simpler implementation and maintenance reduces the burden on your IT team. The technical challenges are greatly reduced with an integrated HRMS.

That said, the greater number of users usually associated with an HRMS means implementation and initial staff training costs may appear higher but… the single interface means your users are not starting from scratch when learning about each automated HR function – having mastered navigating the system, users have the basic foundation for using the full range of functions. When compared with the cost of multiple best-of-breed implementations, an HRMS suite can still be better value financially.

An integrated solution has little likelihood of problems around exporting or integrating data. There are no compatibility or format issues between modules because an HRMS works as a streamlined whole (or should do!)

Similarly, the single database means you eliminate the need for multiple data entry and therefore greatly reduce the possibility of human error and inaccurate or inconsistent data.

A single point of access or single login for all your HR technology makes life simpler for users.

The uniformity of software across your HR functions simplifies processes (and access to those processes) for employees. A single user interface gives a familiar and unified feel of  your HR platform.

For employees, the same HR software (with the same interface and experience) handles everything from the initial job application and recruitment, through performance management and progression, to resignation or retirement. This uniformity means that the HRMS effectively becomes a part of your HR team's brand.

It's far easier to generate reports using data in a single suite rather than drawing (potentially incompatible) data from multiple modules.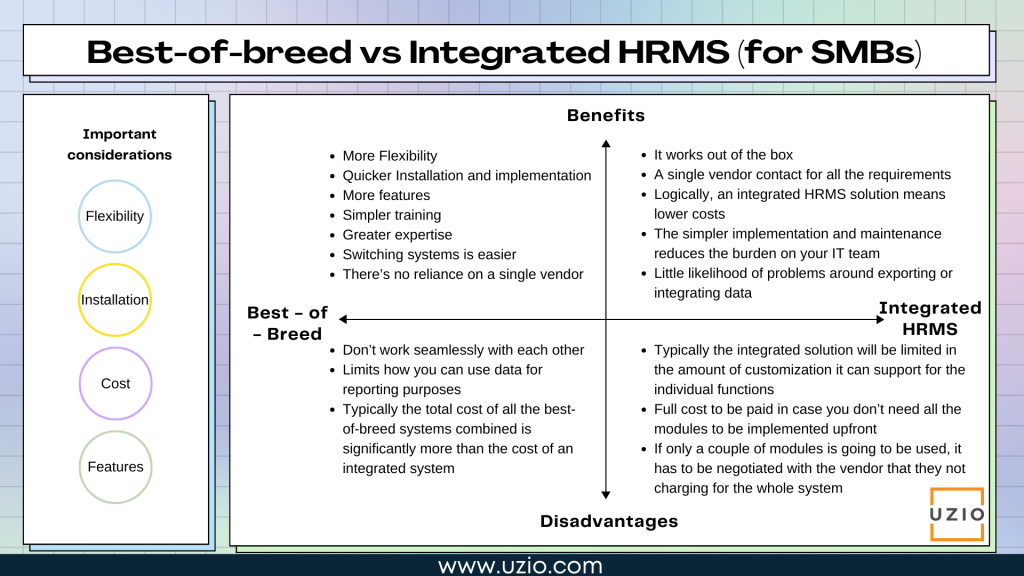 Disadvantages of an integrated solution
While an integrated system may seem to be a better option when deciding on your company's HR needs, there are some things to consider before committing.
First and foremost, there's the cost in case you don't need all the modules to be implemented upfront. If you are only going to use a couple of modules of an integrated solution, make sure that the vendor is not charging you for the whole system.
It also makes sense to weigh how much customization you need in your HR software against how much time it would take to build out those features yourself with an add-on tool. Typically the integrated solution will be limited in the amount of customization it can support for the individual functions.
When should the SMB use an integrated solution, when should it use a best-of-breed solution, and when can it do both at once?
There's no one-size-fits answer to these questions, but there are some general guidelines.
If you're looking to implement a core suite of applications designed to work in harmony with each other, it's best to pick an integrated solution that covers everything from performance management and talent acquisition to payroll and benefits.
That said, if your business processes are highly specialized—for example, if you have very specific needs around hiring employees—you might be better off choosing a best-of-breed product instead.
It's also worth noting that many companies start out using best-of-breed products before eventually moving on to an integrated system down the road.
For example, if you run a small restaurant chain and decide to use an applicant tracking system (ATS) from one company while still using another company's module for human resources management (HRM), then maybe later on you decide it makes sense to integrate those two systems together into one cohesive software package.
In short, don't get too hung up on whether you should use an integrated or best-of-breed solution; instead, think about what works best for your company today and what will work best tomorrow.
Is there anything else the SMB should consider before making the decision?
If you're not sure which route to take, here are a few more things to consider before making your decision. 
Ask yourself these questions, and you'll find a clear answer.
What is it like to work with [Integrated/Best of Breed] vendors on an ongoing basis? 

How can I make my new system fit in with my existing technology stack? 

Am I willing to commit long term to [Integrated/Best of Breed] provider or will I need flexibility down the road in case there's something better that comes along?

How do I get started? 

What are some of your favorite features?
Once you have brainstormed these points, and weighed your options, you will be better placed to make an informed decision.
At any point in time if you feel like connecting with us in this respect, our team is there to help. You can use the link below to book a call with us.
There is no right or wrong answer when it comes to choosing between best-of-breed and an integrated system. It really depends on your company's unique needs. If you still need help making this decision, please reach out to Uzio. We offer an integrated HRMS solution that is designed for SMBs and is the most effective and easy to use solution in the market.